Brief Description
Big Jellyfish Lake (BJLK) is the deepest of all the "meromictic" marine lakes, i.e. those that are "half-mixed". Surface waters are well oxygenated but the lake is anoxic below approximately 18 m (see figure, below), the depth of a well-developed chemocline and dense population of purple-sulfur bacteria. Like Ongeim'l Tketau (OTM), this lake contains golden jellyfish, Mastigias sp., that migrate horizontally each day. However, the migratory behavior of Mastigias in BJLK differs from that in OTM (Hamner & Hauri 1981), suggesting that these populations, evolving in isolation, have adapted to local their environment. Another jellyfish, the moon jellyfish (Aurelia sp.4) also occurs in BJLK (and in OTM). This jellyfish migrates vertically each day, probably following migrations by copepods, which are rich prey.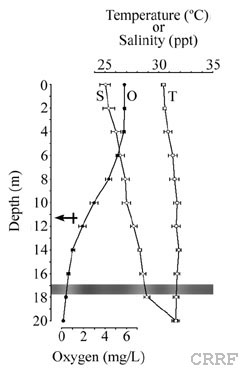 Legend:
O, oxygen
S, salinity
T, temperature
Profiles show mean ± one standard error
(8 profiles, Dec. 1982 to Dec. 2000)
Arrow indicates Secchi disk depth
(mean ± one standard error)
Horizontal shading indicates depth of chemocline.
Species List

Arthropoda:
Crustacea - Copepoda

Chlorophyta:
Chlorophyceae - Valonia aegagrophila

Chordata:
Teleostei - Acentrogobius janthinopterus, Exyrias puntang, Sphaeramia orbicularis
Tunicata - Styela canopus

Cnidaria:
Scyphozoa - Aurelia sp.4, Mastigias sp.

Echinodermata:
Holothuroidea - Holothuria impatiens?

Mollusca:
Bivalvia - Brachidontes sp.

Porifera:
Demospongiae - Aplysinella sp.7, Chondrilla sp.2, Dendrilla sp.4, Druinella sp.4, Geodia sp.2, Haliclona sp.15

Rhodophyta:
Rhodophyceae - Hypnea musciformis


Sources: CRRF unpubl. data; Fautin & Fitt 1991; Hamner & Hamner 1998; Lipps & Langer 1999; G. Paulay pers. comm.; K. Tilbrook pers. comm.